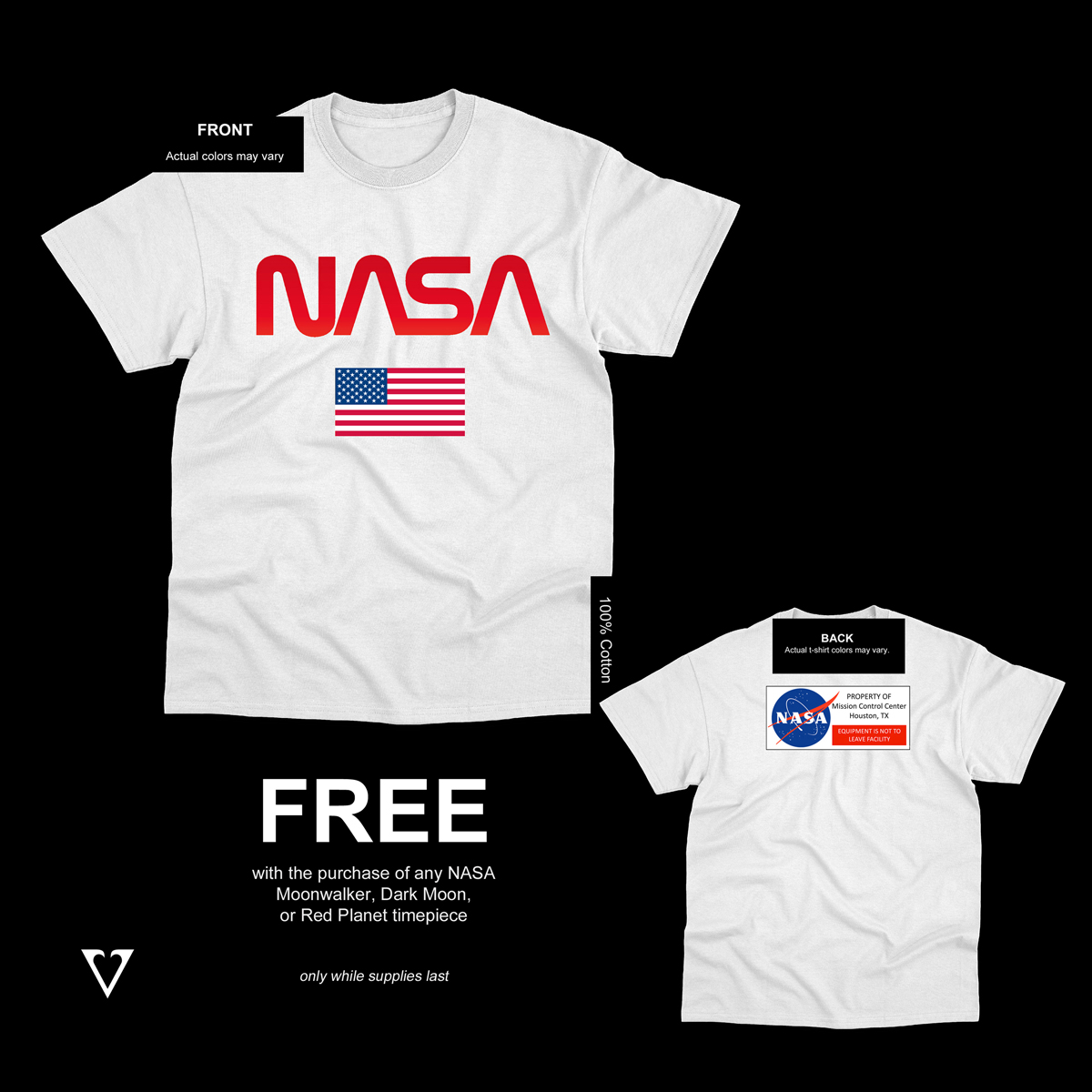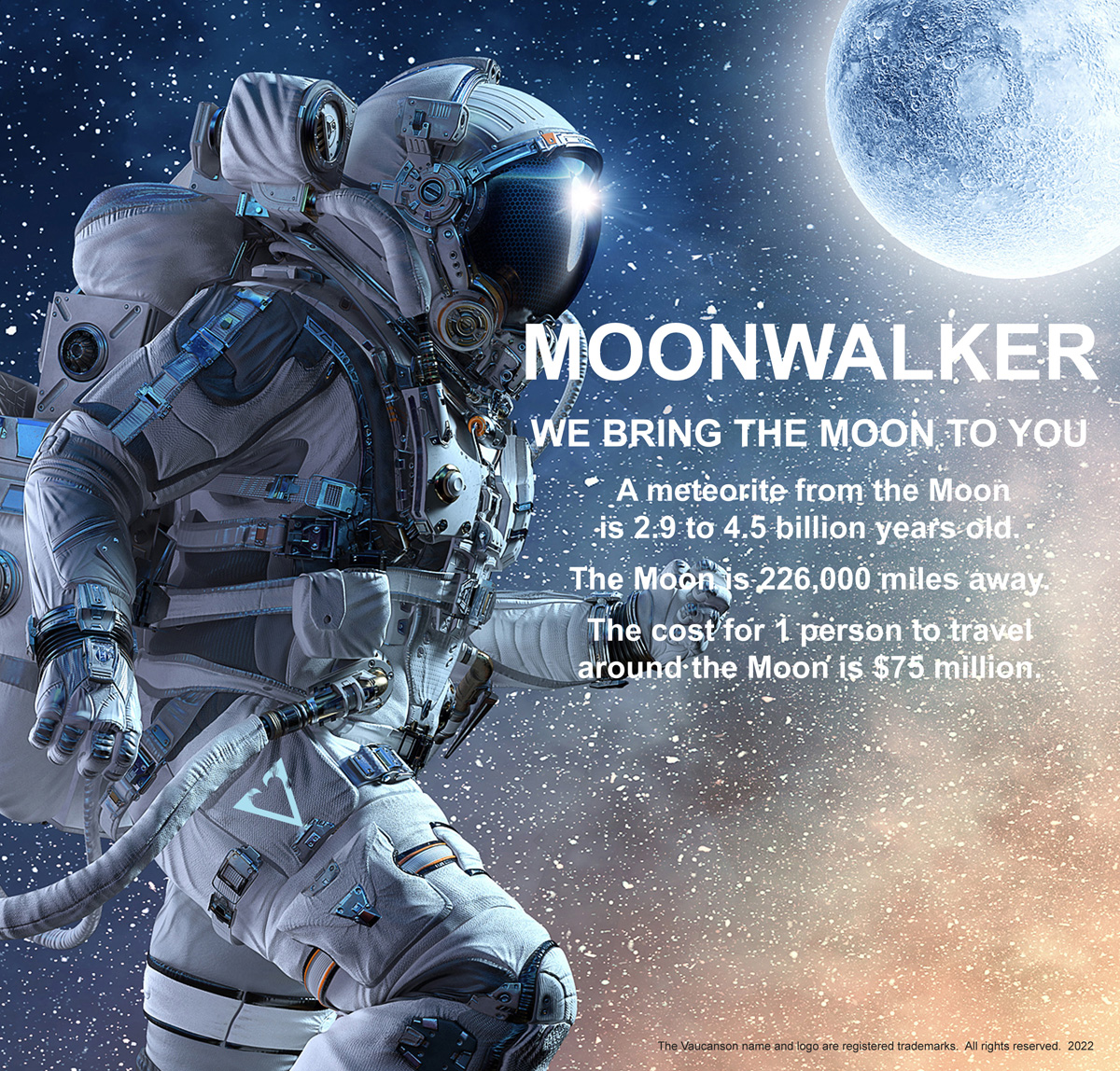 MOONWALKER
In celebration of space exploration and other worlds beyond our own, Vaucanson, with inspiration from NASA, is proud to present The Interstellar Collection.
With its pedigree from the 1974 NASA "worm logo" displayed with fluorescent inks on the matte white watch dial, the backdrop of the Moon in silver brushed metallics.
But what makes an already inspirational timepiece interstellar?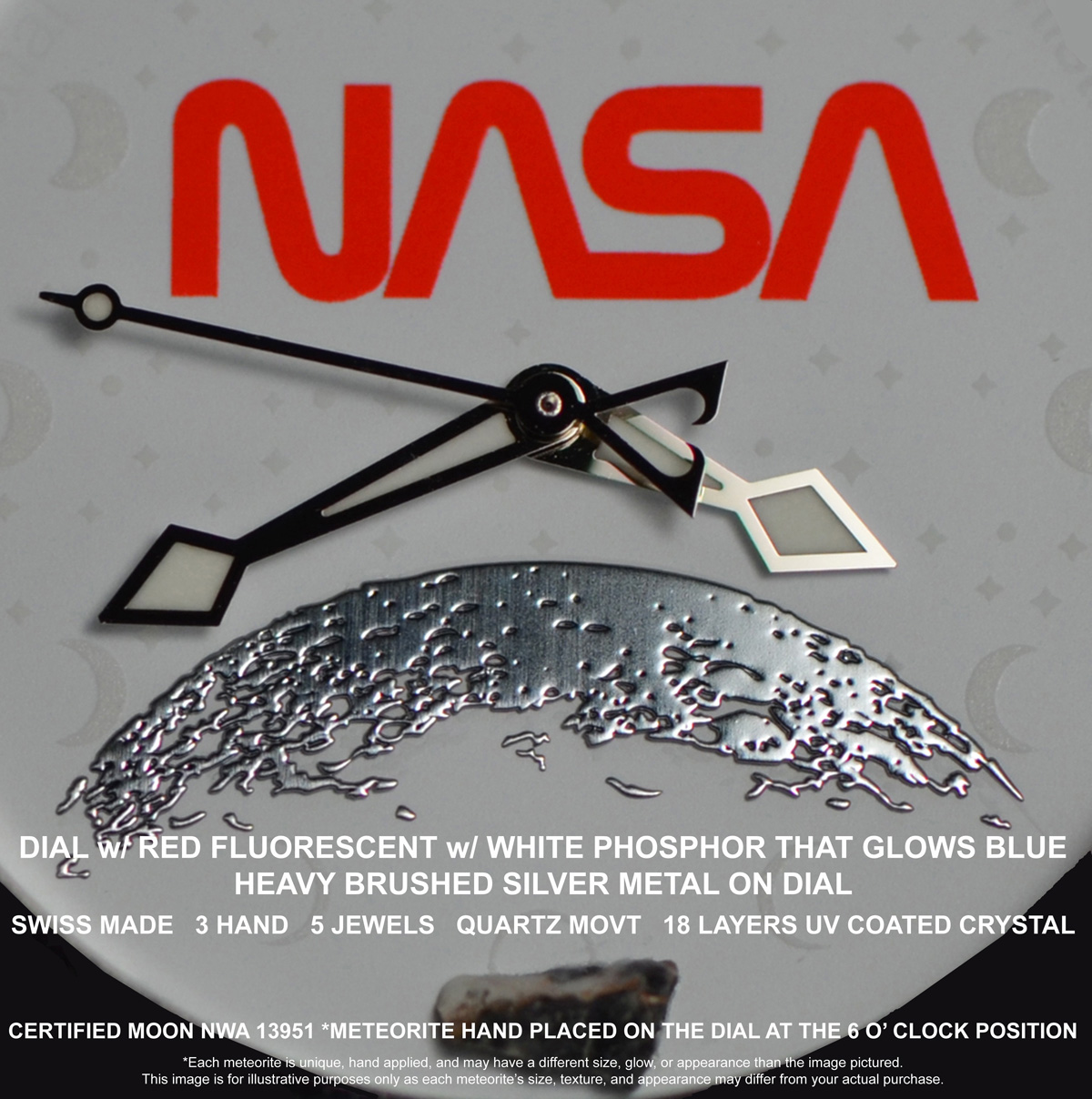 We've hand-placed authentic and certified meteorites from the Moon, at the 6 o'clock position on the dial.
Hand-applied phosphors were added to the sides of each meteorite, creating a glowing effect each time the UV-LED technology is activated.
As a result, Vaucanson wristwatches have three distinctly different appearances: one in daylight, another under UV-LED illumination, and a third in the afterglow once the UV-LED deactivates.
Each timepiece is accompanied with a Certificate of Authenticity.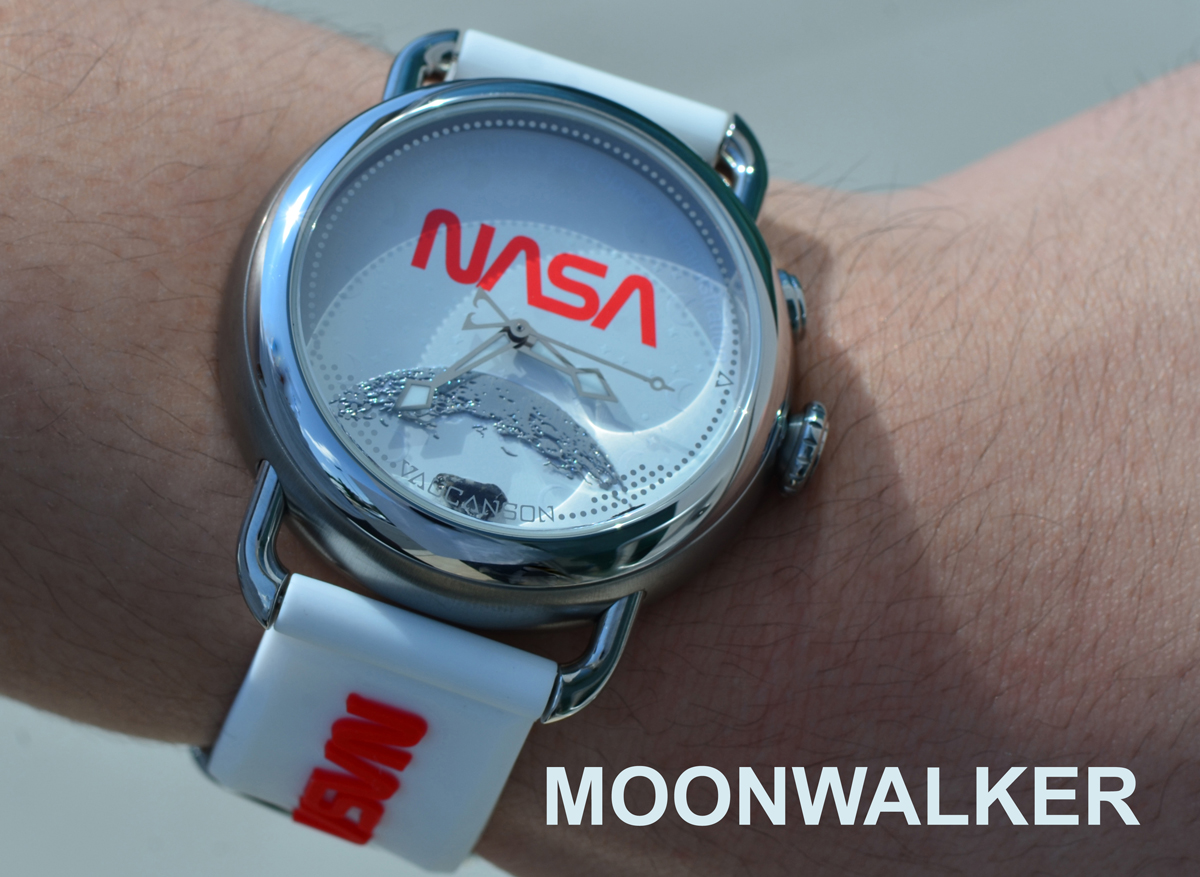 The result of this collaboration is an innovative and patented illumination system which makes this timepiece a true fusion of technology and aesthetics. A perfect balance has been struck between advanced technologies and sophisticated, beautifully executed timepiece dials.
With the push of a button, it becomes clear that this is no ordinary timepiece, as the UV-LEDs activate, exciting the colorful fluorescents and phosphors that absorb the energy and release it as visible illumination creating a truly soulful experience. With the touch of a button, you are not just lighting up your timepiece but your imagination and, quite possibly, inspiration.
Each timepiece comes with a customized raised 3D NASA red worm logo on a white silicone strap that has quick-release pins and a beautiful silver tone tang buckle.
Eighteen layers of proprietary aerospace UV blocking technology.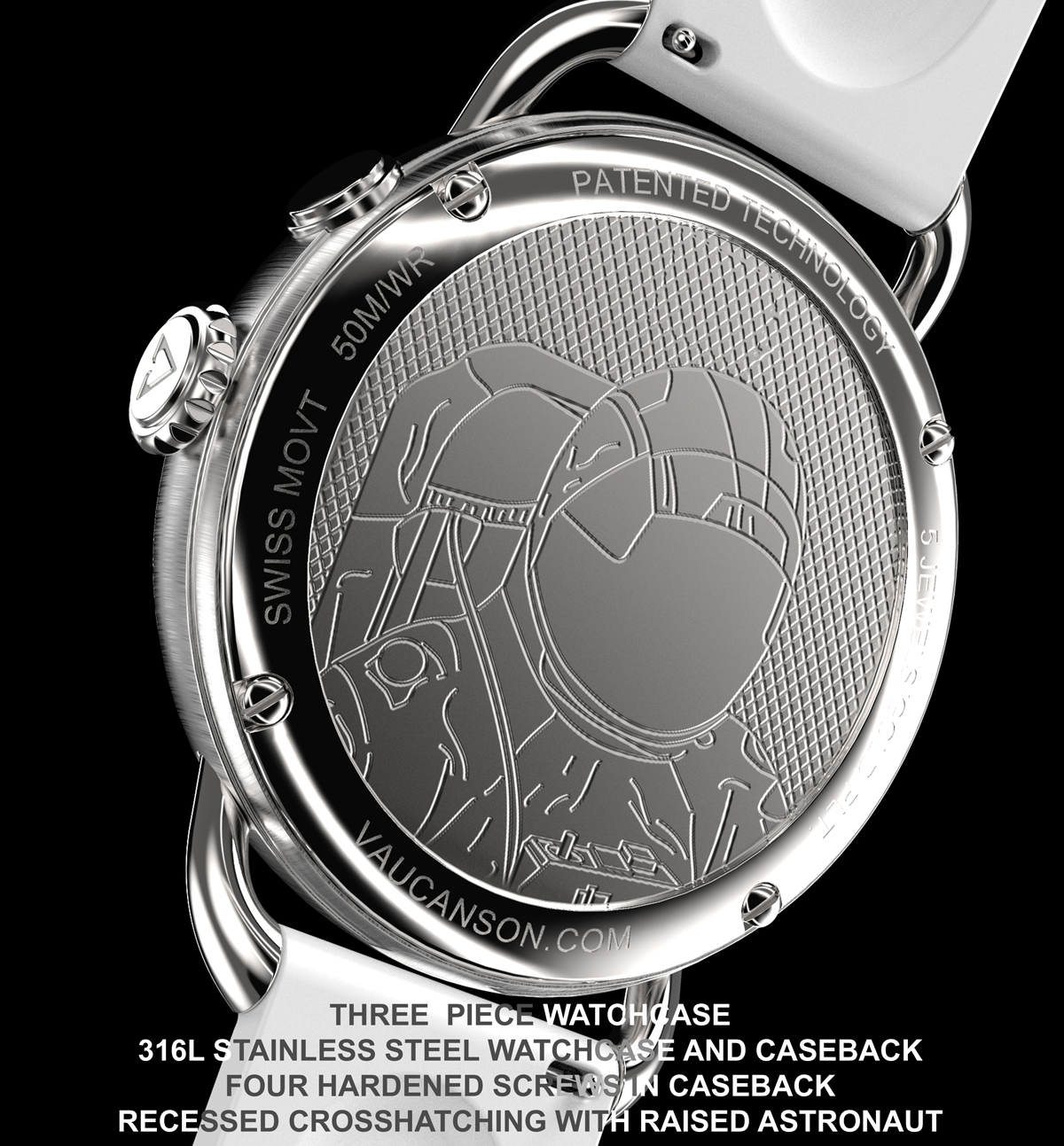 Customized caseback with recessed crosshatching and a raised astronaut image.
Vaucanson timepieces are assembled in the United States of America.